LTC RUSSELL A. GALLAGHER, ED.D., US ARMY (RET)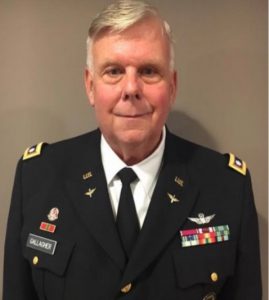 LTC (Retired) Gallagher began his military career in 1974 when he received a commission in Armor Branch. Upon completion of the Armor Officer Basic Course, he attended flight school at Fort Rucker, Alabama. He was promoted to his current rank on 1 April 1992. LTC Gallagher retired from active in June 1995 and began his career in education assuming a job as the Senior Army Instructor for the Junior ROTC program at Roxborough High School. In 2002, LTC Gallagher was selected to be the first Director of Junior ROTC for the School District of Philadelphia. He was chosen to become an Assistant Principal at West Philadelphia High School in September 2007, then Principal of 21st Century Cyber Charter School in 2009. In 2012, LTC Gallagher became the Founding Principal for ACT Academy Cyber Charter School.
LTC Gallagher is a product of Philadelphia public schools, holds a BS in Law Enforcement and Corrections from the Pennsylvania State University, an MA in Management and Supervision from Central Michigan University, and a Doctorate in Educational Leadership from the University of Phoenix. Military Schooling includes Armor Officer Basic and Advanced Leadership Courses, Initial Entry Rotary Wing Aviator Course, Rotary Wing and Night Vision Device Instructor Pilot Courses, Combined Arms and Services Staff School, Army Command and General Staff College, Personnel Officer Staff Course, and the Force Development and Manpower Management Course. LTC Gallagher has also completed a number of other military and civilian courses.
Military assignments have included command and staff duty in aviation, cavalry, and intelligence units and schools throughout the Continental United States, Hawaii, Germany, and Korea. He also served as the Training and Doctrine Command Liaison Officer to the British Army's Headquarters Training and Doctrine and United Kingdom Land Forces in Salisbury, England.
LTC Gallagher is a Master Army Aviator with nearly 1000 instructor hours and over 2200 total flight hours. His awards include the Legion of Merit, four awards of the Meritorious Service Medal, the Army Commendation Medal, two awards of the Army Achievement Medal, the Armed Forces Reserve Medal, the National Defense Service Medal, and the Korean Defense Service Medal.
LTC Gallagher is currently the acting Commandant of the Philadelphia Military Academy. He is married to the former Laura Provan of Glasgow, Scotland. They have two grown children and reside in Collegeville, Pennsylvania.
---